Meet new friends connect with entrepreneurs and resource owners over coffee at our monthly networking event,
happening every 3rd Wednesday of the Month.
Bring your name cards, friends and business associates to build connections,
build authentic relationships, exchange business ideas, collaboration opportunities, and even referrals.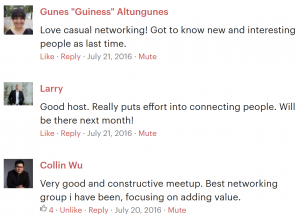 Highlights*
Two-minute "open-mic" sharing for visitors to share:
1. What you do/your business is about
2. Who you serve
3. What makes you different and;
4. What kind of the support you're seeking/need to grow your business
*Sharing is based on a first-come-first-served basis
Sharing will also start promptly at 7.45pm
Event Details:
Date: 3rd Wednesday of Every Month
Time: 7pm-9.30pm
Registration Starts at 6.30pm
Open-Mic Sharing @ 7.30pm-8.00pm
Venue: TRIBE by TEC
Level 2 51B/52B Circular Road, Singapore 049406
Entrance Fees**
Usual: $20/-
Early Bird/Online Registration: $15/-
**Collection of entrance fees serves to filter serious business owners only;
Entrance fee entitles each participant is entitled to coffee, tea and some finger food.
 An authentic networking community, many of those present who've walked through our doors, have since developed into real friendships.
Truly, real relationships have been forged, and collaborations have been made.
---
Feel free to also invite your friends to join you, mingle and network over drinks!
Address: Level 2: 51B/52B Circular Road, Singapore 049406
(Entrance next to TCC)
Join our networking community on Facebook as well!